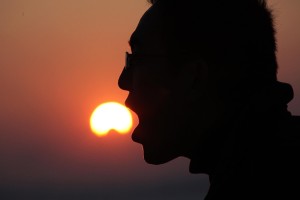 A tizenhat évvel ezelőtti, 1999. augusztus 11-ei teljes napfogyatkozás kapcsán született az alábbi írás, amely időtállónak bizonyult. Kiderült ugyanis, hogy a hagyományra és a szimbólumok világára vonatkozó kutatás során egy olyan modell jött létre, amely egyfelől egy ősi világlátás rekonstruálására tett kísérlet, másfelől útmutatás lehet, hiszen a régi szokások értelmezésével nemcsak az archaikus gondolkodás megértése volt célunk, hanem ezen alapulva a belőlük fakadó belátások átemelése is a mába.
A kutatás közben tehát világossá vált, hogy az analógiákat alkalmazó látásmód a jelenben is alkalmazható, teljes világképet nyújt, ami segít a mai világi és tudati folyamataink megértésében. Kiváló lehetőséget nyújt ezért annak megtapasztalására, miként telítődnek benső élményekkel a felismerés nyomán a hagyomány szimbólumai, így eligazíthatnak minket egy-egy sorsfordítónak ígérkező időszakban.
A mostani napfogyatkozás szimbolikáját alaposan átszínezi, értelmezését gazdagítja, hogy a kulminációja 13 órával előzi meg a Nap Kos jegybe lépését, vagyis a tavaszi napéjegyenlőséget. Azaz mielőtt a Fény, a mitikus Naphős győzedelmeskedhetne a Sötétség felett, utóbbi tesz még egy erőteljes és sikeres próbálkozást, hogy eltakarja a Napot, a fény, a világos erők, az élet forrását.
Nézzük meg a jelenségek szintjén, hogy mi történik a napfogyatkozás óráiban! Egyszer csak fényes nappal elkezd besötétedni, a Nap fénye, ahogy korongjába behatol egy sötét folt, mind halványabb lesz. A Hold árnyéka elkezd kúszni a Földön és ezeken a helyeken beáll néhány percre az éjszaka. A Nap helyén egy fekete lyuk tátong. A napfogyatkozást átélők lelkét ilyenkor valóban ősi, mélyről jövő, atavisztikus aggodalom lephette meg.
Nem csoda, hiszen lényegében kifordul a világ, a szokásos földi színtéren olyan dolog történik, ami az Alvilágban szokásos: nappal lesz éjszaka. Az Alvilág ugyanis az archaikus világlátás szerint fordítottja evilágnak. A túlvilágon a Nap nem világít, ami itt világos volt, ott sötét lesz, így a nappalok és az éjszakák rendje megfordul. Az égen megjelenő sötét folt azt jelképezi, hogy a fonákká vált világban fenn az égen jelenik meg az Alvilág nyílása. A nyílásból pedig előbújik az Alvilág ura.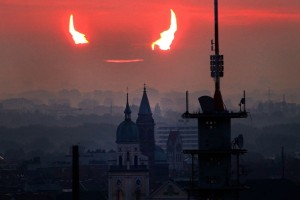 A napfogyatkozáskor néhol tiszta kútvizet öntöttek fehér tálba vagy tányérba és annak színén látták, hogy a benne tükröződő égen kutya vagy farkas kapkod a Nap után. A leginkább elterjedt hiedelmek szerint a Napot valamilyen állat eszi vagy ellenséges lény, szörny üldözi, természetfeletti lény nyeli el. Ennek nevét még a palócok tudják leginkább: ő a Markoláb, egy kincsőrző sárkánnyal rokon lény. A mesében is sárkány a naplopó, sárkány rabolja el a Napot s köszönt teljes sötétség az országra. (A király fele királyságát és lányát ígéri annak, aki visszahozza. Szépmezőszárnya megöli a sárkányt, felereszti az égre a Napot, az őt üldöző sárkányanyát, a vasorrú bábát a világkovácsa segítségével pusztítja el: forró ólmot önt hatalmasra kitátott szájába…)
A nép a napfogyatkozáskor zörejt, lármát gerjesztett, hogy a sárkányt elijesztve a Napot tőle megmentse, vagy bezárkóztak a házaikba. Mivel a napfogyatkozás "káros legalább termésre, jószágra", ezért "különös kénköves harmat vagy esőtől félve, nyájakat haza hajtják, kutakat befödik", máshol úgy tartották, hogy "a nap előtt sárkány repül át, vizelete azon ártalmas harmat, amely döghalált hoz, s azért kell a kutakat befödni".
Ugyan a kutakat is azért fedték be – mivel azok le-, egyben feljáróként szolgálnak az Alvilág és evilág között -, hogy a sárkány ne jöjjön fel, a sötét erők ne árasszák el a világot. A napfogyatkozás elkerülésére, de legalább a sötétség ellen, térnyerése megakadályozására – mint mindig, amikor a Napot, a fényt szándékoztak erősíteni, támogatni, például a téli és nyári napfordulókor -, mágiát alkalmaztak, máglyát raktak, nagy tüzet gyújtottak. Olykor, hogy az eltűnő Napot helyettesítsék, sugaras műnapot készítettek szalmából, ágakból, majd meggyújtották, s körben sétáltak – lényeg, hogy szertartást végeztek az éber tudatosság megtartására…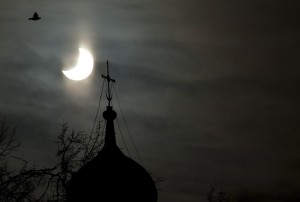 A régi feljegyzések szerint a napfogyatkozásban az emberek mindig Isten büntetését látták. Rettegés lett úrrá rajtuk, attól tartva, hogy "a Nap végleg elfogy, veszedelemben léte által, a világ végkimenetele bekövetkezik". Úgy vélték, napfogyatkozást az okoz, ha "az ördög az Istentől kicsal egy kis parazsat", vagy a boszorkány veszi le az égről, vagy éppen a Hold verekszik a Nappal. Ezt gondolták akkor is, amikor a feljegyzések szerint 1880-ban, Budafok határában láttak – az utolsó, 1842-es teljes után valószínűleg csak részleges – napfogyatkozást: "látták, hogy a Nap… háromszor volt alól, mégis felül került."
A hagyományos magyar világképben a világ hármas felosztása, az alsó világ, a középső, földi világ és a fölső világ a benső tapasztalásban egymást meghaladó tudatállapotokat jelképez. A mitikus képzet hármassága tudati analógiája szerint a tudattalan, tudatos és a kiterjesztett tudatosság szintjeinek felel meg leginkább. Így az Alvilág a tudattalan a személyiség sötét, rejtett oldalát, a középső világ a hétköznapi tudatot, a felső világ a transzcendens bölcsességet szerzett, kiteljesedett emberi tudatállapotot jelképezi.
Az alsó és a felső világ szembenállnak egymással, mint a sötétség és világosság eredői is, így világosság és sötétség harca a tudatos én harca a világosság segítségével a nem tudatosított, idegennek megélt, elutasított erőkkel a megismerésért és kiteljesedésért. Az igazi szellemi integráció magja az emberi természet sötét, el nem fogadott, látni nem akart oldalán található. Az Alvilágban rejlenek az igazi lehetőségek, felismerések, ott, ahol valami taszít, zavar, s aminek az elfogadásáért, önmagunk igazabb, teljesebb mivoltának felismeréséért meg kell küzdeni. Erről szól a régi kanászdal is: "Aki dudás akar lenni, pokolra kell annak menni."
Mit tehetünk akkor, ha az öntudat erejét jelképező Nap eltűnik? Hol rejlik ebben az eseményben lehetőség az önnön tudatosságának kiterjesztését szándékozó számára, mikor a pokol, az alvilág jön el hozzánk? Mire kínálkozhat egyáltalán esély olyankor, amikor a sötét erők árasztják el a világot, vagyis a kellően fel nem készült, fel nem ismert erőivel szemben nem felvértezett embert félelemteli módon elönti saját benső sötétsége?
Semmiképpen sem pusztán arra, hogy a fogyatkozó Napot nézzük. A régi közmondás szerint "fogyva nézik a napot" – vagyis a Napot akkor nézik legjobban, mikor fogyatkozik, egyébként észre sem veszik. A legtöbb ember úgy él, hogy valójában se lát, se hall, s csak akkor tűnik fel számára valami addig természetes dolognak az eltűnte, mikor már nincs. A napfogyatkozás is ilyen és bármennyire is tudja az ember, hogy majd csak előbukkan a Nap, a zsigeri rettegés benső katasztrófahelyzetet okozhat, sőt a tudat megrázkódtatását a világ, mint a tudat tükörképe is visszajelezheti. Az 1880-as napfogyatkozás után azt írták még a tizenkét évvel később mindössze három mondatban lejegyzett tudósítás végére: "Délután földindulás volt, mintha hinnán (hintán) lettek volna".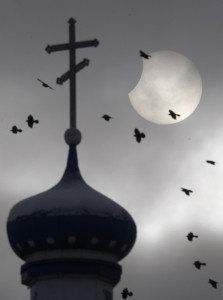 Bármily fájdalmas és szenvedésteli, átalakulás csak valami halála, elpusztítása révén következhet be. Ahogy régen mondták, a sárkány, a Markoláb "valamit megint a föld alá akar rabolni" és "minden napfogyatkozással valami eltűnik a világból" – vagyis önmagunkból. Valami az égi történéssel párhuzamosan meghal bennünk – a legjobb, ha tudatosan fogyasztunk el valamit magunkból és az a mi szándékunk szerint tűnik el belőlünk, s nem találomra.
Volt olyan elképzelés is, hogy a napfogyatkozáskor "a sárkánykígyóval a garabonciás megy a Nap elejébe". A sötét erő tehát meglovagolható, egy magasabb, meghódítható tudatosság érdekében igába fogható. Régen a kutakat zárták le – a legjobb, ha mi önmagunkat zárjuk be a sötétbe, alámerülünk önnön Alvilágunkba egy "dudás-mozdulattal". Így tudunk a kezdetnél még teljesebben, megújultan visszatérni – ahogy majd számunkra a Nap is fényesebben, kerekebben ragyog majd minden korábbinál, mikor – jó eséllyel – előbukkan.