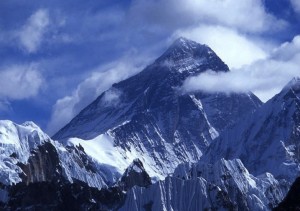 A Föld istenasszonya, azaz Csomolungma a Himálajában, vagyis "a hó otthonában" (hima: hó, álaja: hon, otthon) él. Földi, anyagi megjelenéseként ő a bolygónknak a tengerszinttől számítva legmagasabb hegye. Élő, mozgó hegy, mondhatni, hiszen a tektonikai lemezek mozgása miatt évente körülbelül négy milliméterrel nő, s két és fél centiméterrel mozdul el északkelet felé.
A hegyet az angolok Mount Everestnek nevezték el Sir George Everest hadmérnök ezredesről, aki 1852-ben mutatta ki méréseivel, hogy az angolok által addig Peak XV néven ismert hegyen van a világ legmagasabb csúcsa. Akkoriban nem tudták, hogy van már réges-rég létező neve a hegynek: Nepálban Sagarmatha, azaz "Az ég csúcsa". Tibetben az istenként imádott hegy neve Csomolungma, amit úgy is fordítanak: "A világ anyja".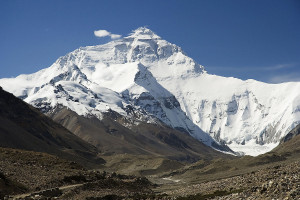 A tibetiek olyannyira szentnek tartják a hegyet, hogy lábukkal nem tapodnák. Egyedül a serpák hiedelemvilága nem annyira szigorú, hogy ne segítsék a hegyet meghódítani akarókat. Ők támogatták már George Malloryt is, aki többször is megpróbálta megmászni a Mount Everestet a múlt század elején. Arra a kérdésre, hogy miért akar feljutni a csúcsra, ő nemes egyszerűséggel azt válaszolta: "Mert ott van". A mai napig tisztátatlan, hogy társával, Andrew Irvine-nal ő jutott-e fel elsőként 1924-ben a világ legmagasabb hegycsúcsára, s netán már a csúcsról visszafele térőben haltak meg, vagy még a felfelé vezető úton érte őket a halál.
A csúcsot, úgy tudjuk, Edmund Hillary új-zélandi hegymászó és Tendzing Norgaj nepáli serpa hódította meg 1953-ban. Hillaryt ezután Erzsébet brit királynő lovaggá ütötte, míg Tenzinget egyesek Nepálban istenként tisztelték, mintha Buddha vagy Siva reinkarnációja lenne.
Évtizedekig a hegymászás csúcsa volt, ha valaki felkapaszkodott a Csomolungmára. A Mount Everest megmászására idővel óriási iparág épült, évente több százan jutnak fel a csúcsra, előfordult, hogy egy nap 234-en. Mostanra minden második hegymászónak sikerül a csúcstámadás, csakhogy gyakori, hogy sorba állnak egymás mögött, két és fél órán át arra várva, hogy az előző csúcstámadók végre lejöjjenek a hegy tetejéről.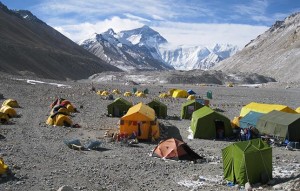 Nem csoda, hogy a Mount Everest fokozatosan elveszíti a vonzerejét. De nem csak azért, mert olyan sok a látogatója, hanem azért is, mert ahogy egy szemtanú beszámolt: "szemét önti el a gleccsereket és emberi ürülékpiramisok lepik el a táborokat". Mások szerint a Csomolungma megmászása "már nem egy vadvilági kaland, hanem egy McDonald's-élmény".
Sokan vannak, akik megpróbálják megtisztítani a hegyet, de nincs könnyű dolguk, maga a néhai Hillary is azt mondta 2005-ben, hogy bár ő is sok mindent a hegyen hagyott, de szomorú látványt nyújt a mostani rengeteg Himalája-turista által eldobott melegítőedények, csomagolópapírok, ételmaradékok és a hátizsákok kiürített tartalmának sokasága. S főleg akkor szomorodhatunk el, ha belegondolunk, mennyire szimbolikus ez a látvány, milyen jellegzetesen árulkodik az emberiség állapotáról, természethez való viszonyáról: még a világ legnehezebben megközelíthető helyét is bemocskoljuk. Bárcsak tudatosodna bennünk az analógia, az összefüggés: ahogy "A Föld istenasszonyával" bánunk, úgy bánunk a Földanyával is!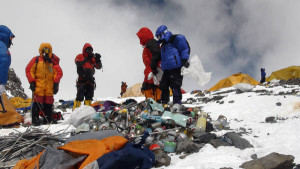 A legfrissebb, 2015 eleji hírek szerint mára komoly problémává váltak a hegymászók által a hegyen hagyott emberi anyagcseretermékek, a helyzet a környezet elszennyeződésével és betegségek terjedésével fenyeget. A katmandui kormány ugyan tavaly előírta, hogy minden hegymászó hozzon le magával legalább nyolc kilogramm szemetet, annyit, amennyit útja során egy csúcshódító a becslések szerint hátrahagy, s aki megszegi az előírásokat, elveszíti a négyezer dolláros letétet – ám nem ez lenne a végleges megoldás.
Hanem a hegy tisztelete. És általában a Földé, a természeté. Földanyáé.
Ám hogy tisztelnek ma egy hegyet, amit nem tekintenek már szentnek, hanem puszta föld- illetve szikladarabnak? Amit ráadásul birtokolni lehet, sőt kell… Jól jellemzi ellentéteket építő gondolkodásunkat, hogy ketté van osztva a hegy is: a csúcsán halad át Kína és Nepál határvonala.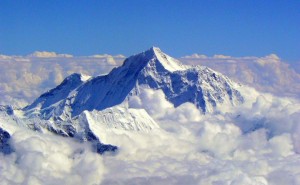 Egyesek szerint be kellene tiltani a Csomolungma megmászását. Szomorú, hogy a szemétre hivatkozva és sajnos már nem azon érvek alaján, amit még Malloryék csúcshódítási kísérlete után néhány héttel Reményik Sándor írt meg versben. Érdemes felidézni, oly kevesen ismerik!
A Mount Everest pártján
Fajomnak, az emberfajtának
Árulója: a Hegy pártján vagyok.
Akarom, hogy az utolsó orom
Szűz jegét ne tapodja lábatok.
Maradjon egy csúcs a világ felett
Érintetlen, mint holdbeli hegyek.
Fajomnak, az emberfajtának
Árulója – bár szánom azokat,
Akik tetemeikkel töltik be
A vért szomjazó szakadékokat:
Kívánom, bár az ember hősnél hősebb –
A Hegy maradjon mindíg az erősebb.
Maradjon egy csúcs a világ felett,
Ahova úgy szállhat a gondolat,
Hogy ottan ember nem járt még soha,
És oda nem vitt szemetet, sarat,
Ember felett álljon ez az orom,
Örök-jégből világító-torony.
Ezen az ormon ne lobogjon zászló,
Ne lobogjon se brit, se gall, se más.
Mint a csillagok, közömbös legyen,
Semleges legyen, mint egy látomás.
Legyen mindenkié és senkié –
Útjelző kő az Úristen felé.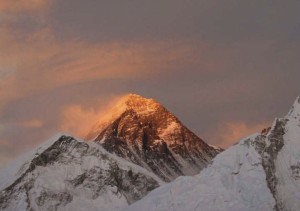 Reményik ugyan nem érte meg a Csomolungma meghódítását, ám a hegyet azóta sokan tapodták. Érvei alapján már késő lenne betiltani a hegy megmászását, de ha újra istenekként, istennőkként tisztelnénk a Föld erőhelyeit, visszaadnánk szakrális jelentésüket, jelentőségüket, s a Csomolungmát valóban a Föld istenasszonyának tartanánk, akkor talán reménykedhetnénk változásban.
Ehhez azonban belül kellene olyan szellemi csúcsokat meghódítanunk, amitől túl sokan állnak olyan messze, mint nem is a tengerszint, hanem a tengerfenék a világ csúcsától.